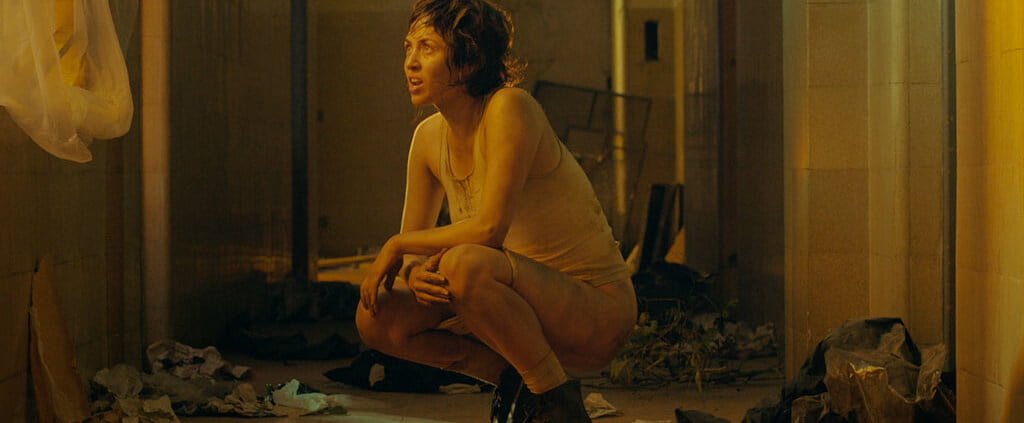 Breaking News : Variety – Inarritu, Reygadas Back Emiliano Rocha Minter's 'We Are the Flesh' (EXCLUSIVE)
Inarritu, Reygadas Back Emiliano Rocha Minter's 'We Are the Flesh' (EXCLUSIVE)
Reel Suspects sells post-apocalypse horror fantasy which world premieres at Rotterdam Fest
"The Revenant" director Alejandro Gonzalez Iñarritu and Carlos Reygadas, whose 2002 debut "Japan" brought down the flag on a new generation of filmmakers that have revolutionized filmmaking in Mexico, are backing horror thriller "Tenemos la carne" (We Are the Flesh), a flagship title from another new wave of Mexican producers and directors.
Broadening its portfolio of envelope-pushing genre titles, Matteo Lovadina's Paris-based sales company Reel Suspects has acquired world sales rights to "We Are the Flesh." It will world premiere Feb. 2 at the Rotterdam Fest's Bright Future section, with Inarritu and Reygadas taking a "present" credit. Post-production work was carried out at Reygadas' Splendor Omnia ranch-facility nestling in the Mexican hills one-hour's drive south of Mexico City. Reygadas, Splendor Omnia's Natalia Lopez and Splendor Omnia take co-producer credits.
Mexican Emiliano Rocha Minter's first feature, "We Are the Flesh" is set in a post-apocalypse Mexico, where a brother and sister, Lucio and Fauna, wander a ruined city for years in search of food and shelter. They find their way into one of its last surviving buildings, where a man makes them a dangerous offer to survive the outside world. As they help him transform the building into a womb-like cave, a disquieting sexual relationship emerges, along with a dynamic in which darker instincts do their destructive work.
"We Are the Flesh" is billed as a reaction to – and product of – a culture in which cruelty and lust are linked in a shocking way, as well as a poignant and provocative analysis of Mexico.
"We are very thrilled to work on Emiliano's first feature that perfectly embodies the rise of a new wave of Mexican cinema," Lovadina said.
He added: "We Are The Flesh' is bold and provocative, raw and meaningful, playing with cinema genres in a very modern yet unseen way. I am sure the public will be mesmerized. Festival programmers and buyers will be intrigued by Emiliano's visual style and direction."
Rocha Minter broke through to attention – and revealed his technical chops and use of genre tropes with his third short, "Inside," screened at 2013's Rotterdam Festival, a B&W suspense-laden drama in which two young men friends dig a hole in the ground in a forest.
As his 24 thanks in IMDB suggests, Inarritu has a long history of encouragement, advice or aid to fellow Mexican and Latin American filmmakers whether Alfonso Cuaron, Guillermo del Toro Reygadas or on Sundance player "The Last Elvis," from Argentina's Armando Bo,Inarritu's co-scribe on "Birdman" and "Biutiful."
Inarritu and Reygadas' public enthusiasm for "Flesh" also links them with "Flesh" producers Julio Chavezmontes and Moises Cosio, lynchpin figures in a new second Mexican industry wave which broke through a near decade after Inarritu's debut, 2000's "Amores Perros."
Debuting as a producer with "Halley," from Sebastian Hoffman, and the lead-producer on "Flesh," Piano's Chavezmontes' Mexico City producer-distributor Piano also produced ""Echo of the Mountain," Nicolas Echeverria's 2014 Guadalajara winner, exec produced by Michael Fitzgerald, who produced John Huston's "The Dead."
Chavezmontes is currently firing up an ambitious slate of movies, including Hoffman's "Tiempo Compartido," a step-up-in-scale follow-up to "Halley," plus Daniel Graham's "Opus Zero," which will star "an important American actor," and with Reygadas, 2012 Cannes best director winner for "Post Tenebras Lux," again on board, this time as associate producer.
A producer on Atom Egoyan's "Remember," Alejandro Jodorowsky's Cannes 2013 Directors' Fortnight hit "The Dance of Reality" and a co-producer of Samuel Jackson-starrer "Kite," Detalle Films head Cosio teamed in March 2015 with Gerardo Gatica and Alberto Muffelmann to launch Latino indie conglom Panorama Global.
"We Are the Flesh" is co-produced by French director Yann Gonzalez, helmer of Cannes Critics' Week Special Screening "You and the Night." Simplemente's Rune Hansen and Monica Reina serve out of Mexico as associate producers, as does Celia Iturraga.
https://www.reelsuspects.com/wp-content/uploads/2016/01/WEA04.jpg
768
1024
Matteo Lovadina
https://www.reelsuspects.com/wp-content/uploads/2014/09/logo-def.png
Matteo Lovadina
2016-01-25 10:11:35
2022-10-19 14:56:20
Breaking News : Variety – Inarritu, Reygadas Back Emiliano Rocha Minter's 'We Are the Flesh' (EXCLUSIVE)