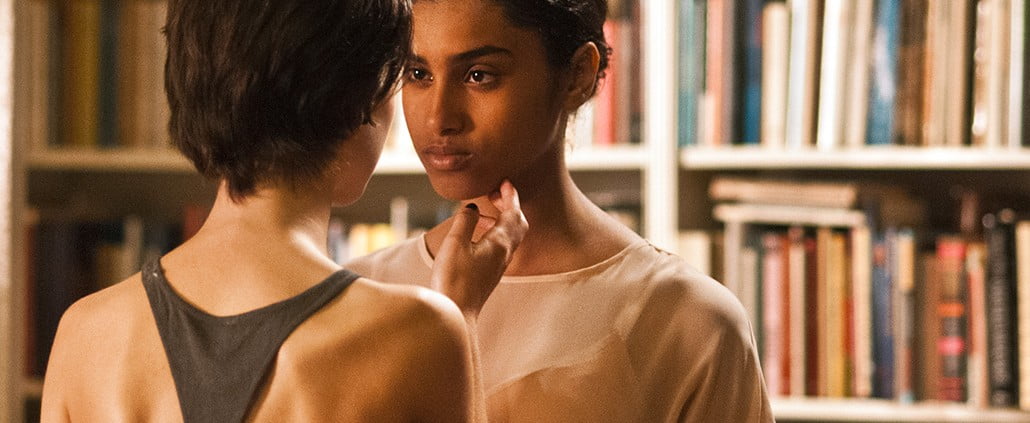 Breaking News : Cineuropa, Reel Suspects acquires NUDE AREA
Nude Area: the most tantric, televisual experience imaginable
by Thomas Humphrey
– The movie sees Antoniak marry Nothing Personal's lyricism with Code Blue's potential for controversy; the results are visually stunning, witty and always thought-provoking
Nude Area opened the Focus on Polish Cinema section at this year's Tallinn Black Nights Festival, and it immediately proved why we need more female directors. Many make films about lesbianism, but few take their discussion of the "L-word" as far as Urszula Antoniak's Polish-Dutch co-production does. In short, this film depicts a lesbian love affair that is so intense it cannot be experienced lucidly, in a linear way (and indeed, this movie is certainly not linear).
Instead, Antoniak divides her work into a catalogue of L-words (love, labour, limit, languor…), each acting as a chapter or "fragment" in this complex look at female desire. The result is a discussion that turns out to be universal. It becomes about how all-consuming love can be; how it can transport, overwhelm, fulfil, or even leave us unmoved. But Nude Area's tale of interracial love also asks some probing questions; ones that perhaps only a woman could ask aptly.
The film explores the West's tendency to attach fetish value to Eastern culture, reifying rather than respecting it. But instead of resisting that tendency, this film cuts it open for our consideration. Additionally, Antoniak's dissection of attitudes towards Islam carries with it a potential feminist critique: if the hijab is meant to keep a woman's beauty private from men, what is there to stop the lass at the local, women-only swimming baths from falling hopelessly in love with you?
Antoniak really demonstrates how complex feminism amendments can become when a woman is given room to explore them. One such example is feminism's exposure of art's tendency to depict men as gazers, whilst women merely appear – as if they were presenting themselves for man's objectifying looks. But Nude Area asks: what if the gazer and the observed are both women?
On this note of subjectivity and objectivity, the film opens with an epigraph taken from Roland Barthes: "[The lover] speaking within himself, amorously, confront[s] the other (the loved object), who does not speak." Straight away, the suggestion is that Antoniak wants to take this dynamic beyond feminist territory. What we have instead is a cerebral look at human desire.
Desire proves to be an opportunity for the lover to project their wishes onto the beloved, relegating them to an object. But in this respect, Nude Area shows how little male and female desires differ. All the same, Antoniak never simply defers to Barthes' idea. The two lead actresses, Sammy Boonstra (Naomi) and Imaan Hammam (Fama), are forever moving between empowered and passive states, subjectivity and objectivity, fragility and strength – roles that these two actresses play perfectly.
Hammam, as the object of desire, has all the annoyance of Bambi being caught in the headlights of somebody else's passion, whilst Boonstra's desperately searching eyes flawlessly convey the equally helpless lover, turning this almost speechless film into a revelation. Boonstra often sits before us rather like a Romantic poet: mysteriously hidden behind her fringe, flanked by books, forever elegant.
But Nude Area constantly lulls us into her Romantic states, too. We happily sit in Naomi's rocking chair of fantasies – perhaps fantasies we all take to dizzying heights when sat on the bus. This movie relentlessly tips us out of our rockers as well, though, as it snaps us in and out of reveries, soundscapes and static images. And as a result, we never remain certain what is fantasy or fully realised fantasy; with the shift between the two sometimes being so bathetic it genuinely makes you smile.
Despite this irony, written words still unfold across the screen and lyrics flow, making poetry part of the film, despite the absence of dialogue. Images also communicate ideas metaphorically (like all the sexually charged, coursing water in this movie, for example). But water imagery coupled with shots of reflections even come to intricately suggest an unattainable, self-projected form of love… Put simply, Nude Area is just the most tantric, televisual foreplay imaginable.
See also
Nude Area [PL, NL] (2013) – Film Profile, Film Review
https://www.reelsuspects.com/wp-content/uploads/2014/11/NUD061.jpg
643
1030
Matteo Lovadina
https://www.reelsuspects.com/wp-content/uploads/2014/09/logo-def.png
Matteo Lovadina
2014-12-15 21:25:55
2022-10-19 14:56:55
Breaking News : Cineuropa, Reel Suspects acquires NUDE AREA