Bliss
Directed By :
Henrika Kull
---
Germany / 90 minutes / 2021
Technical Details :
Cast :
Katharina Behrens, Adam Hoya, Nele Kayenberg, Jean-Luc Bubert
Produced By :
Martin Heisler, Flare Film GmbH
Language :
German, English
Festivals & Awards :
Festivals :
Berlinale 2021 – In Panorama
Molodist – In Competition
Biografilm – Official Selection
Mostra Fire!! – Official Selection
Pink Apple – In Competition
Sascha has been working in the Berlin brothel "Queens" for many years. Maria is the new girl, she is independent, maverick and queer. Sascha is immediately drawn to this otherness, Maria in turn is fascinated by Sascha's supreme ease. The attraction becomes a love that works differently than anything either has experienced before. A promise of great happiness. But then their connection starts to tremble – because of their fear of showing each other their true selves and facing their own abysses.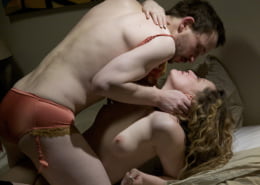 by Melanie Laurent, Blanca Li, Zoe Cassavetes, Anna Mouglalis, Arielle Dombasle, Lola Doillon, Laetitia Masson, Helena Noguerra, Caroline Loeb, Tonie Marshall