Still
Directed By :
Simon Blake
---
United Kingdom / 2014 / 99 min
Technical Details :
Cast :
Aidan Gillen, Jonathan Slinger, Amanda Mealing, Elodie Yung, Sonny Green, Kate Ashfield
Produced By :
Blunt Pictures – 011 Productions
Music By :
Alex Grey
Language :
English
Festivals & Awards :
Festivals :
Chicago IFF & Nominated @ The Roger Ebert Award – In Competition
Bahamas IFF (New Visions) – In Competition
Cleveland IFF – In Competition
Palm Beach IFF – In Competition
Dinard FF – In Competition
Film Fest Gent – Official Competition
Braunschweig IFF – In Competition
Awards :
Best International First Feature Film Award @ Galway Film Feadh
Best director @ London Independent FF
Tom Carver is a man stumbling blindly towards a crossroads in his life, thrown out of focus by the death of his teenage son a year earlier in a car accident. He is a talented photographer whose career has largely been unfulfilled. A chance and seemingly unimportant confrontation between Tom and a fifteen year old boy brings his life and responsibilities to the fore. A battle of wills between Tom and the gang of kids develops, on the surface trivial and childish altercations begin to take a considerable sinister direction. Tom retreats ever inwards as his life starts to unravel, until at last it reaches its painful and shattering climax.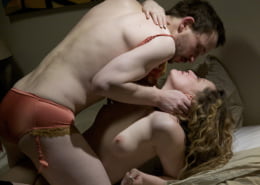 by Melanie Laurent, Blanca Li, Zoe Cassavetes, Anna Mouglalis, Arielle Dombasle, Lola Doillon, Laetitia Masson, Helena Noguerra, Caroline Loeb, Tonie Marshall